| | | |
| --- | --- | --- |
| Client: | | Consumers Digest |
| Project: | | Logo Evolution |
re-seal of approval: CONSUMERS DIGEST BEST BUY
The main purpose of this coveted award logo—a distinguished seal of quality appearing on hundreds of millions of product packages, promos, and websites worldwide—is to promote the Consumers Digest brand. That said, due to the errant perception by many consumers of some sort of connection between Consumers Digest and Best Buy stores, Woodpile Studios was tasked to evolve the original mark (originally created by anotherfirm) in order to downplay the words "Best Buy" and increase the words "Consumers Digest."
With the need to maintain maximum recognition equity held in the expertly-crafted original design, we carefully applied subtle changes to sizes and spacing of various elements of type, imagery, and color in order to accomplish the client's goals. We also made the colors more richly compatible across the board, and updated the 3D version by replacing the dated "canned" 3D-program look with the sharper, more scalable custom vector illustration.
With the successful facelift of the seal, Consumers Digest also asked us to design the actual award statuette that is presented to those who win this coveted endorsement.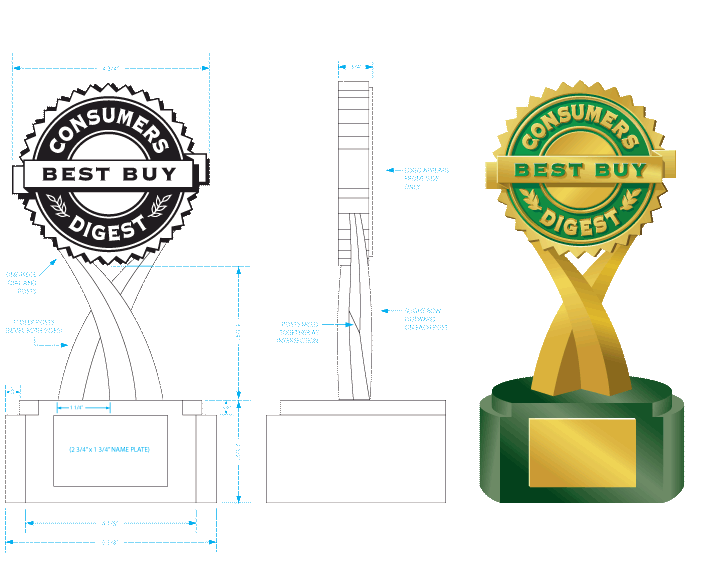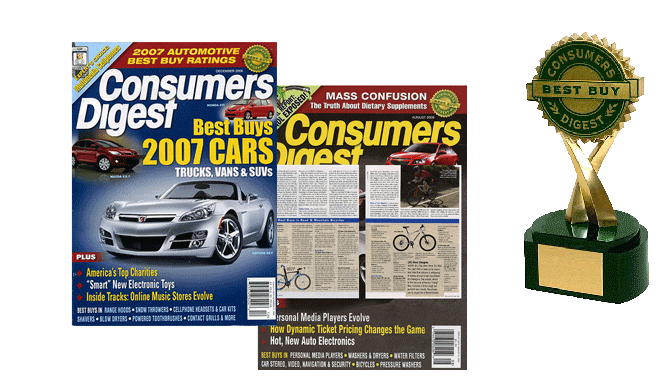 Woodpile was also selected by Consumers Digest to create a promotional logo for their 50th anniversary celebration. This design was crafted to be visually compatible with the Best Buy Award seal, with matching techniques and enclosed structure. This design has been selected to be published in a new Graphis coffee table book, Logo Design 8.